LE PIANO ET LA VOIX D'ARIANE, Acte Cinq, Ariane Gray Hubert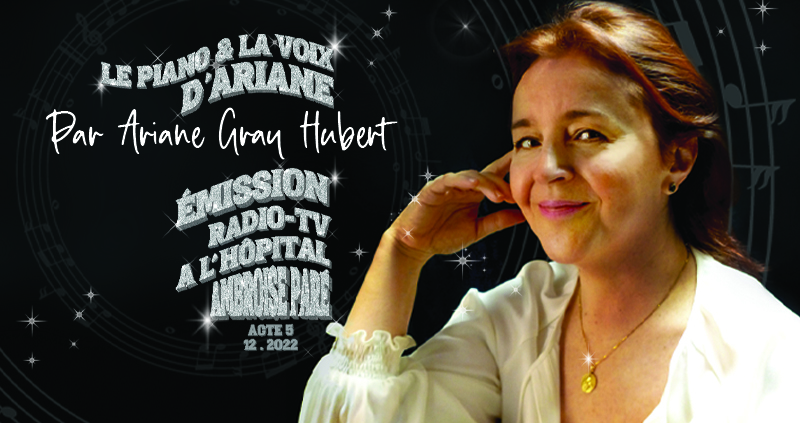 Welcome Subscribe & Be Part: www.youtube.com/user/ARIANEMUSICPROD
Follow ARIANE online:
SITE: www.arianegrayhubert.com/
INSTAGRAM: www.instagram.com/arianemusicarts/
Shop: https://www.arianegrayhubert.com/bout…
"THE PIANO AND THE VOICE OF ARIANE", Act Five (excerpts), Ariane Gray Hubert : https://youtu.be/0KUblZtd6AU
5th Live Radio TV Broadcast – a monthly one-hour broadcast with Ariane Gray Hubert, artist, composer and storyteller, La Voix d'Ambroise PARÉ, la Radio des patients, France.
The singer, concert pianist and multi faceted composer invites you to discover an unparalleled repertoire around the Piano and the Voice, through a selection of various works from around the world including the music of Ariane Gray Hubert.
At the start of the New Year 2023, the artist has new surprises in store for us.
"Transmitting what is beautiful and sensitive is vital, even more today. In my work as a creator, I have always shared my Music and Art to the underprivileged communities in various places, alongside concert and performance halls. So I play, sing and tell in new formats some "bridges of well-being" through my Art for all those who, at some point in their life, need a moment of comfort in orphanages, foster homes or in hospital. "
Share your reactions on Ariane Gray Hubert's channel, so that we, the artists, can continue to offer you joy, hope and good entertainment.
You can also connect to the site www.arianegrayhubert.com to find out about the artist's news.
https://www.arianegrayhubert.com/wp-content/uploads/2023/01/ADH-008b-800x600-dec.jpg
600
800
Gray Hubert Ariane
https://www.arianegrayhubert.com/wp-content/uploads/2020/06/logotransparent-bleu.png
Gray Hubert Ariane
2023-01-23 14:40:04
2023-01-23 15:07:37
LE PIANO ET LA VOIX D'ARIANE, Acte Cinq, Ariane Gray Hubert